Yoga is already a new activity for most people. 2022 trendy yoga pants are more welcomed in the market. Best yoga wear should have aesthetics and practical. Then wearer not only practise conveniently but also enjoy the yoga wear with beautiful mood. In the market, manufacture will launch latest yoga wear with new functional fabric and new trendy element every year.
There are more and more women pay more attention to 2022 trendy yoga pants. Today, we will share with you.
New Yoga Pant with Waist Locking Technology
As we know, some waist of yoga pants is easily slide down especially when they do high intensity actions. It makes people embarrassed when happened. Practical first, aesthetics second. Now there are manufactures develop waist locking technology to prevent flanging and slide, which is high waist guardian.
Keep waist highly could give you a great sense of security when you take exercises. Please notice if the yoga pant with waist locking technology when you choose yoga wear.
Lycra Yoga Pants for High Intensity Exercises
Lycra is famous for high quality and durability, which is one of the most popular spandex fiber brand. Because of durability functional, lycra yoga pants is more fit for high intensity exercise. If you are good at such yoga, it is your best choice.
In the market, you can select yoga leggings with 80% Nylon 20% Lycra and common weight is 210 GSM. Because such composition ratio is highest cost performance.
By the way, newest is liquid lycra with 3D stereo coating. It could be used on the side of legging to make butt lift. Of course legging with this liquid lycra is a little higher than common lycra.
Lightness Yoga Pants Just Like Cloud
Do you feel lightness when you wear yoga pants? There is such legging with lightness fabric to make you feel sleep in the cloud. The material is gentle to skin, which make you completely immersed in sports without any sense of restraint.
If you want to experience such feeling, welcome to pick it up.
Double Hip line Design To Make Perfect Butt
In order to make perfect butt lift, most manufacture choose to custom scrunch design, which is to common in the market. But some manufacture want to make some difference. They try to add double hip line on the back of waist to shape the butt.
If you would like to build your brand, you had better choose some different designs to attract your main customers' attention. Such double hip line design could be your good choice.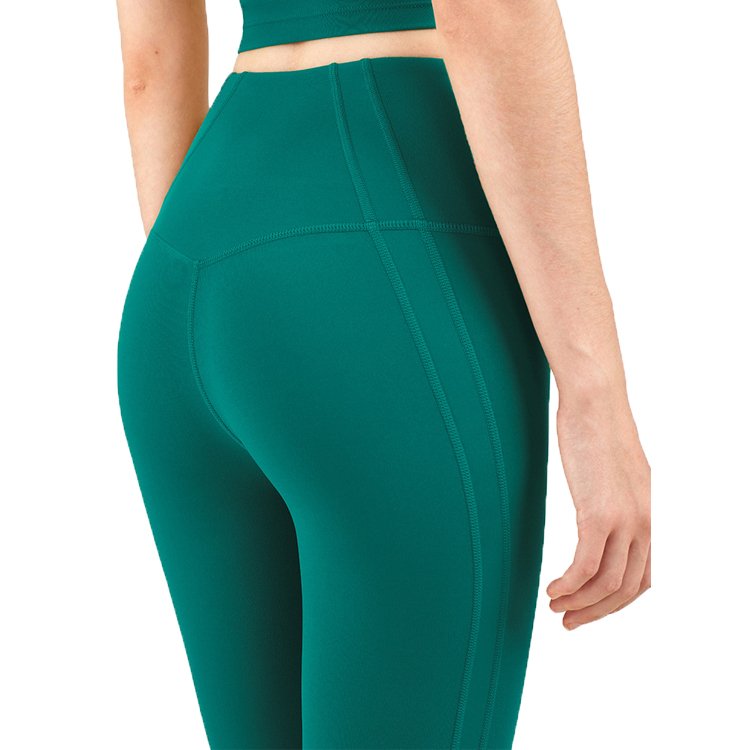 Hot Sale Chessboard Yoga Pants
Chessboard element is hot sale this year. Classical chessboard color is black and white. According to 2022 popular colors launched by Panton, purple color is also a good choice. In addition, Spring is coming, more new refresh colors are also welcomed by market, such as light pink, light green, light blue etc.
If you are interested in these 2022 trendy yoga pants with high quality, we have a large selection in our catalogue for your choose. Our factory, Xiamen Xinyi Apparel, who is focus on custom yoga wear for more than 8 years, have already produced many styles with aesthetics and practical.
Glad to tell you that we provide OEM service with with fast delivery, excellent customer service, competitive pricing, effective size guides service to support buyer who want to build their own brand. Welcome to inquiry from us, we could provide best quality and price of products for you. At the same time, hope we have chance to serve you and build long term business with you.