Mesh panel yoga legging has become a must-have garments that can be found in almost every female's wardrobe. The reason is not surprising. Yoga leggings inserted with mesh panels are stylish, comfortable and functional. Whether you're looking for a new active wear suits or comfortable yoga pants that allow you to roam the house, the mesh yoga pants are the perfect solution. In this article, let's learn something about mesh panel and the most popular mesh legging designs.
What is Mesh Fabric?
Mesh fabric was adopted by sportswear manufacturers in the 1980s and has been attracting attention in the fashion industry for many years. It has elasticity, strength, breathability, and is essential for all apparel designers. Mesh fabrics are usually made of polyester, nylon, or spandex. As you know, synthetic material are duarable and able to lasts for a long time. Most surprisingly, the mesh can be made of metal, giving the fabric a glossy look. All mesh fabrics have the same net structure, but their weight, thickness, color and finish may vary. In addition, this material can provide different hole sizes.
Features and Application of Mesh Fabric:
The breathability of mesh makes it very suitable for the manufacture of sportswear, dancewear and shoes. However, this substance has more special characteristics. Listed as below:
Waterproof
Very flexible
Durable
Anti wrinkles
Easy for maintenance
Due to the above features, therefore the mesh fabric is also very perfect material for active wear designs, especially women's yoga leggings.
Due to applying with moisture wicking fabric and seamless construction, there are no tags or threads that irritate the skin when moving. This makes you do not want to take off these mesh yoga pants. Properly placed mesh panels on the thighs and calves help increase air flow. With the side pockets at leg, easy for keep your cards, keys, or anything else you need around while you go out for exercise. These mesh leggings combine the elements of comfort with very stylish details. It also features with 4-way stretch, anti-bacterial fabric and flat lock seams, making it extremely practical.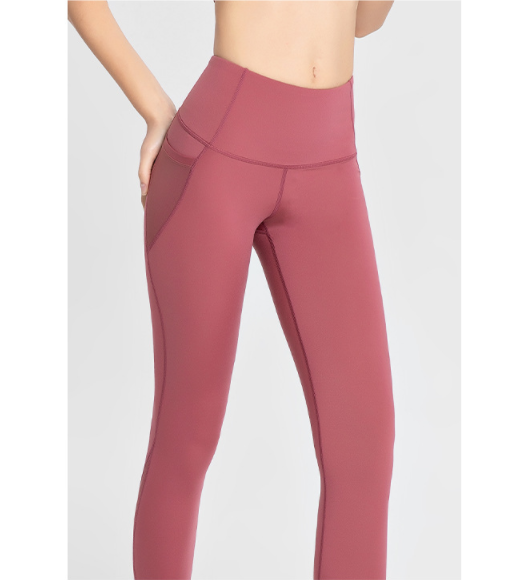 Mesh Panel Inserted Compression Yoga Legging
Made of lightweight fabric, this mid-waist compression legging with mesh panel inserted offers maximum comfort and a relaxing style, making it very easy to complete your workout. Our mesh panel compression leggings are beautiful, squat resistant and perfect for all low to high impact activities. The 4-way stretch fabric works with a stretchy waistband for adding extra support. Stylish mesh panels stretch your legs, which makes your legs look longer and provide breathability.

High Waist Mesh Yoga Pant:
This high waist yoga legging is fashionable, and will take you from the studio to street fashion! Made of nylon spandex fabric, the high waist legging is compressive and well fitted. Besides, the high waistband with good elasticity keeps you comfortable during exercise. Mesh panels provide breathability and a street fashion look. The wicking fabric keeps you cool and dry. In addition, the 4-way stretch fabric can shape, lift and smooth the leg lines, this high waist mesh yoga pant is perfectly match for wearers of all shapes.
Explore Our Mesh Panel Yoga Legging Series:
Our mesh panel yoga pants series  made of premium material, produced in China, while highly welcome in Europe, America and Australia. The fabrics are breathable, fast-drying and antibacterial, designed to keep you dry and comfortable. Our yoga clothing series are super soft and comfortable, providing all the comfort and flexibility you expect for a sportswear suits. Our sportswear collection is perfect for yoga, Pilates, gym or any other types of exercise you like. The active wear we design are stylish, modern, and can easily fit into your daily wardrobe.