Custom yoga pants
Finding the Best Custom yoga pants Supplier
Custom yoga pants is when you want design your own yoga pants, build your own brand, and differentiate your active yoga pants from the similar competitors. We offer the full OEM/ODM service on yoga pants for you, include custom pattern, private label, and customized packaging. You will get everything that custom yoga pants brands want for. And even if you do not have the idea of the yoga leggings design, we can also give you the options for confirm, like Wholesale leggings with pockets, because of its function, should be the top choice of your first custom yoga pants.
With yoga wear manufacturer, we share you the suitable fabric for your brand, and update the trendy fabric which famous brands used, as we know fabric is key point to any yoga wear or active wear related brand. As you can learn, most brands which realize the high record sales are working with the sustainable Eco-friendly fabrics. Such as REPREVE in USA, carvico in Italy, or the RPET fabric which in topic.
And that is what we have been working hard this years. Every design we produce will both offer the four way stretch suited for the yoga wear or active wear, and change into the sustainable fabrics. To support small activewear startups, we accept small quantity order, with 100pcs MOQ, to take the stress our of bulk order.
In this page, let us take a look at the entire process of " how to manufacture my own yoga pants": From the fabric choose, whole production process and time, logo print and hang tags options.
OEM service we offer for the Custom yoga pants:
-Pattern Design: Custom your own design, or make some changes on our designs
-Fabric Custom: Can be custom the fabric as you requested
-Color Options: You can choose from our instock color swatches, and can be customized as the pantone number you provide
-Size: will under your own size chart, if not, we have the standard US size chart for confirm
-Print Logo Service:Heat Transfer print, Screen Print, Silicon print, Embroidery available.
–Custom Hang Tags: you can design your own hang tags, and our team will provide you the various options.
-Brand Custom Packing Bag: polybag can print your brand name as requested, and custom carton boxes are also welcome.
-UPC Barcode Sticker: Send us your detail information for the sticker, we can custom it on the packing bags for you.
Learn more
What is the Custom yoga pants Process and Time?
Let's take a look at the step by step process to custom your own yoga pants. To help you have an idea about how a yoga pant manufacture and how long does each part take to.
1.Custom yoga pants – Providing all detail information
Contact our sales department, recommend doing a fact-time meeting to explain the points of your Custom yoga pants. And please mare sure that have a high-resolution JPG or PNG file of the logo and print pattern. And that will be appreciated if you have the AI file of them. However, if you only have hand drawn draft of your own yoga pants, that is ok. As our mock-up designer will make an blueprint for you. Just make sure you have the whole design specification on the hand drawn draft. And our sales department and design department will confirm them through videoconferencing.
2. Adjusting the design pattern
Design department starts with determining the pattern (also known as cut sheet). All the pattern's dimensions will all adjustable according to your design artwork and size chart. After double confirming with all details, the sample team will arrange a Size M yoga pants for you. So, make sure that the size and cut of the yoga pants is the correct one. If not, call the sales department and feedback us the improve suggestions. We will tweaked until the fit and design is right as what you want for. This may take about one or two week depending on if first sample is agree on upon you.
3. Preparing the fabric and other accessories
The prepare time will be different from the fabric color and print you choose:
Solid color fabric from our instock fabric:
The production team will immediately arrange production line once you confirm the sample.
Custom yoga pants. Custom Pantone color your want for:
The lab dips will be finish in 3-4 days. And fabric production will ready in about 10-15 business days once the lab dips are checked from customer.
Sublimate print pattern fabric:
Test print fabric will take about 2-3 days for the color inspections. And once color are correct as provided, the printing fabric will produce and finish in about 7 working days.
4. Cutting and Sewing Part
After the inspection of fabric production, the production department will move on cutting and sewing your custom yoga pants. From the fabric color you have decided and following the pattern you have chosen on. We could take about 2-4 weeks until the finished yoga pants are out, which depends on the design complexity and order quantity.
Learn more
How to choose the right fabric of Custom yoga pants?
As we all know that, an eligible material for yoga pants, all have these points:
-Breathable
-Durable
-Quick dry
-Four-way stretch
but how to choose the right material for your custom yoga pants,here have a comparison between the different material:
| | | |
| --- | --- | --- |
| Material | Feature | Recommendation |
| Polyester & spandex | Durable, lightweight, breathable, and quick drying | Sublimation print yoga pants, which more focus on how the print pattern show |
| Nylon & spandex | breathable, supple, super stretchy and still provides some moisture-wicking capabilities | Ideal material of yoga pants, so if your design is solid color and prefer the skin-friendly fabric. |
| Lycra fabric | superelastic, heat resistance, high quick dry than the spandex fabric | a high level fabric for p yoga pants, but more expensive |
| Recycled Polyester & Spandex | Eco-friendly, sustainable | Material made from the plastic bottle, recommend for the one mind on sustainable products |
As for thickness, Depends on which Custom yoga pants for:
For Winter or outdoor yoga exercise: 250gsm-280gsm will be the ideal options, which keep warm and not to be too see-through.
For Summer or dynamic yoga class:180-220gsm recommend for you. what's more, the trendy fabric thickness nowadays is lightweight. But you do not worry about the see-through problem, updated double-side polyester/nylon fabric will solve it for you.
Options For A Range Of Colors:
we have some instock color options for confirm, which also provide a low MOQ for you. If you are startup, then you prefer multi color but small quantity when order your custom yoga pants. And for sure, you might have different wants and needs on colors. Send us the pantone color number you want, we will send the lab dip and color swatches for confirm.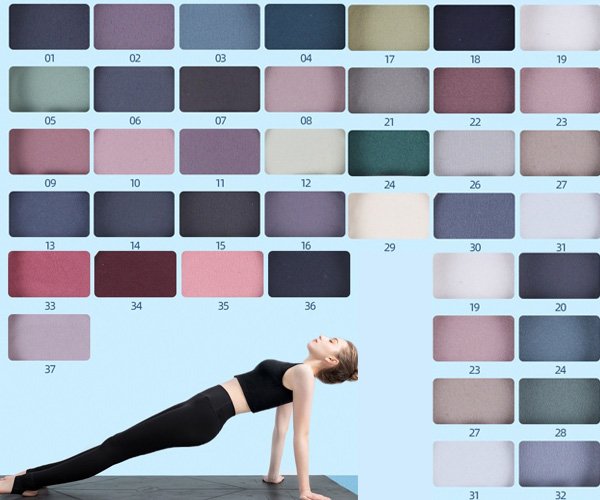 Most Common logo print for activewear manufacturer:
If you want to print your logo on the yoga clothes, you can do it in several different ways. Including embroidery, screen printing or transfer:
Embroidery is a technique involving sewing machines. The image of the logo is uploaded to the software, and the machine stitches the logo on any surface. If you want to follow the embroidery route, thick fabrics are the best. If you choose embroidery (or ironing patches), you should need to use a converter. It such as Convertio to obtain the correct logo file.
Screen printing is a technique that is very suitable for a large number of products. Because the screen must be customized for each design. The durability of screen printing is quite good and can last a long time on the fabric. This is a common method to print logos on T-shirts and bags. Of course, yoga clothes are also suitable.
But the most common way of logo printing is thermal transfer. In short, thermal transfer printing involves spreading sheets of transfer material on the garment. And then hot pressing them to permanently apply customized graphics to the garment.
The required graphics are first digitally printed on special thermal transfer paper using solvent ink. When pressed with hot press, this type of ink allows the design to be transferred from paper to yoga clothes.
The beauty of thermal transfer printing is that it is suitable for different materials and fabrics. Compared with other methods, it is almost no mess, and requires minimal maintenance.
All about heat transfer technologies:
There are different heat transfer technologies, it may be a bit confusing. But don't worry, let me break them down for you.
Sublimation printing is one of the most popular variants of thermal transfer printing. The way it works is to digitally print graphics and then heat them to transfer the dye to the custom yoga pants.
Unlike other thermal transfer printing technologies, sublimation printing uses dye inks that become gas when heated. Heat pressure, and time cause the dye ink to change from a solid state to a gas state, and then back to a solid state. This is unparalleled. Because the gas is added to the polyester and becomes part of the material instead of the top layer.
Printing plastisol transfer
The plastisol transfer process is very similar to screen printing. Except that the artwork is first inkjet printed on plastisol transfer paper. And then you use this paper to heat the design on the custom yoga pants.
CAD-Cut thermal transfer vinyl printing
CAD (Computer Aided Design)-Cut printing is another method of thermally transferring a design to a T-shirt. This T-shirt printing technology is most commonly. Used to print numbers, names, and logos onto CAD-Cut vinyl materials, which are then heat-pressed onto custom yoga pants.
In short, this process involves using a machine to cut designs and letters on colorful vinyl sheets. Then use a heat press to transfer each vinyl to the yoga suit.
Of course, the printing method for logo is still selected according to the needs of the fabric and the preferences of customers. Our factory will cooperate to give customized customers the most satisfactory choice.
For Custom yoga pants hang tags We provide:
Custom yoga pants Hang Tags to Complete Product Packaging. Custom Hang tags is a simple yet effective way to round out packaging and branding for any product. Their function can go beyond being a price tag. Used to show customers a product's care instructions or to delve deeper into your company's story.
Most of the customer will have questions about the size. We can suggest the ones from Small to Super Sizes.
Choose from a variety of rectangular or square shapes. Our three most popular sizes are:
2" x 3.5" is the same size as a standard business card. Ideal for handy, rectangular custom tags.
2" x 4" is slightly longer than the first standard size. And works for tag designs with horizontal or vertical orientations.
2.5″ x 2.5″ provides extra space for square labels. PVery suitable for minimalist designs that highlight key parts of a logo or company information.
When choosing labels for clothing, hang tags are a popular choice because of their versatility. The custom tag allows you to customize everything, from the layout to choosing the font type and information you like. Companies can use hang tags to build their own brands and attract consumers. Tags are usually the first thing people look at after finding a piece of clothing they are interested in. Even if the price is higher than their budget. An attractive and high-quality tag may influence their decision-the tag plays a decisive role.
How to make Custom yoga pants hang tags that are good for your brand?
-Choose the right font and color
The font and color you choose for the tag will depend on your design philosophy. Although it is good to be creative and create eye-catching designs, try to limit the color of the label. To no more than three colors to keep it simple and stylish, and remember to keep your design consistent with your brand. If you choose a larger label, you can also choose a picture to enhance the beauty.
-Detailed product specification.
Custom yoga pants hang tags for clothing or any other related products should have space to provide detailed information about the item. Include information about what makes your product stand out from the competition. You can include information such as materials and any special care instructions on the tag. You can also include important information about your brand.
–Use high-quality materials
The type of material you choose for your tag may vary depending on your product and the type of aesthetic you are pursuing. But one thing is certain: you want to make sure that its look and feel are of high quality. Since your label represents your overall brand, you want it to portray the best image possible. Make sure to state whether your hangtag has a seal and string. Because these details are relevant and can add value to your product.
Our tag customization service team will give you more choices.
Except Above items, we can provide the packing bag. We will provide you the full service to make the product prefect.
Contact us for the Custom yoga pants service:
Above are the whole introduction of how to custom yoga pants, from the fabric,production process and its logo print and hangtags custom. Can't wait to work for you and manufacture your amazing custom yoga pants. Contact our sales team who will be able to provide any questions that you have on custom service of yoga pants. Click to our contact page to find our email inquiry form and phone number. What's more, we also have the FAQs page, that you may want to check out the information there. To the custom yoga pants questions that we are asked most as.
Contact us for the Custom yoga pants service:
Above are the whole introduction of how to custom yoga pants, from the fabric,production process and its logo print and hangtags custom. Can't wait to work for you and manufacture your amazing custom yoga pants. Contact our sales team who will be able to provide any questions that you have on custom service of yoga pants. Click to our contact page to find our email inquiry form and phone number. What's more, we also have the FAQs page, that you may want to check out the information there. To the custom yoga pants questions that we are asked most as.