If you have seen any custom gym clothing ads on Instagram or see influential people promoting the fitness clothing series. You will found that gym clothing is no longer the exclusive fashion type for brands like Nike, Adidas and Under Armor. It is reported that the three giants make up one-third of total gym clothing traffic. However, start-ups and medium-sized sportswear stores are entering the center stage step by step. And plan to stay in the stage for a long time.
If you are wondering how to make your own fitness clothing line better, no matter custom private label sports wear or unbranded gym clothing. Here's exactly the important information you need to know before diving into the market.
Create a Fitness Clothing Collection that Represents Your Ideas
How many clothes do you need for each collection? What kind of clothes should I include? These are all decisions that need to be made through the evaluation of resources.
And, the key points you need to keep in mind is:
—Collection usually consists of 5 to 10 pieces of clothing of different styles, designs and application, but made up from common elements.
—Choose a wide range of clothing such as sports bras, yoga leggings, shorts, T-shirts, and more to attract more people.
—Sports and leisure are very fashionable markets. Consider what to attracting people who looking for this style.
—Investigate the styles, colors and seasonal trends, and other factors that influence purchasing. And check comments section from your competitors to get the idea of what your target market requires.
Choosing the Right Custom Gym Clothing Manufacturer
There are countless gym clothing manufacturers on the market. Some manufacturers are more experienced than others.
Here are some tips to help you identify a reliable manufacturer:
—Make sure the custom gym clothing manufacturer you are talking to has enough experience. Not only experience, but also professional knowledge is required. This will allow you to provide valuable advice on fabric selection and design, as well as suggestions where it seems appropriate.
—Clearly understand delivery times, ability to sourcing materials, collaborated supplier and brand network they've worked with, level of customer support, and minimum order quantity (MOQ) requirements. Consider their sustainability as a manufacturer of custom fitness wear.
—Perform quality assurance (QA) checks when analyzing samples. Check that the stitching are consistently and that there are not too many seams.
—Carry out a wash test to see if the color fades or shading, and ask the gym wear manufacturer to perform stretch and recovery tests in the appropriate laboratory for further evaluation…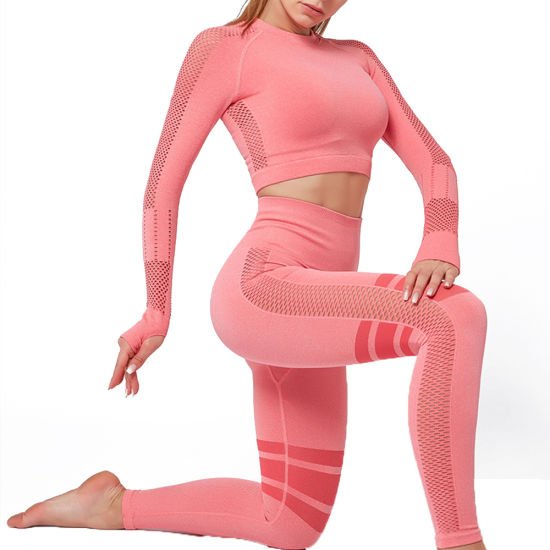 OEMYOGAWEAR—Custom Gym Clothing Wholesaler
There are many factors in the manufacture of fitness wear. Therefore, it is important to spend as much time as possible on a narrow list of fitness wear manufacturers to choose the right partner for you and your gym clothing brand.
OEMYOGAWEAR.COM helps bridge the gap between retailers and customers by offering the best wholesale collection of customized fitness wear with detailed functional quality.
As a rich experienced wholesaler of fitness clothing, we have a large category of trendy gym clothing. We have a large inventory of fitness wear designed specifically for men and women. Our ever-growing collection of fitness wear will undoubtedly impress you and your customers.
Besides, we can also satisfy your requirement for custom gym clothing. All you need to do to get contact with us and express your design details, then will make the signature collection specially according to your plan. OEMYOGAWEAR.COM can offer new and updated versions of stylish gym clothing according to your needs. which will surely satisfy your customers.
A new era of gym clothing wholesalers has finally arrived. OEMYOGAWEAR.COM is actively deploying to all sportswear wholesalers to make it easy to restock sportswear inventories. Own-branded business owners looking for bulk inventory for their stores can definitely contact us to meet your bulk gym clothing needs. Please contact us as soon as possible!
For more information kindly follow us in instagram for latest updates.