Why do all women know the importance of own a high quality butt lifting leggings? Because they make your hips look better. You can easily transition from a morning yoga class to a happy hour drink with just a few quick style changes. Not only due to the high stretch and incredibly comfortable fabric, but also broad application.
Leggings are so popular that you have a lot of choices. So, to help you find the best high quality butt-lifting leggings and most flattering unbranded gym clothing, we have selected some of our most welcome yoga leggings to make your hips look more beautiful! For more information on the best butt lifting leggings, check out my post on the best yoga leggings to make your hips look beautiful!
1. Seamless Butt Lifting Leggings
No one is able to resist the stylish sporty look, especially when sports and leisure are becoming the big trends. What's the better way to wear than a pair of seamless leggings that give your hips a nice shape, which require less weightlifting and squats. The secret is that the contour stitching appears to retain the push up the your booty. This is the secret of all the celebrities who seem very contoured when shown up.
This seamless butt lifting leggings is available in a variety of colors. It's the most comfortable, muscle-supporting and breathable yoga leggings you can find and can help you improve your athletic performance while staying moving. Designed with seamless fabrics, our butt lifting leggings is comfortable, provides firm support in the center of the abdomen, and can be shaped with flat curves, making it the perfect yoga legging for everyday wear.
If you want to combine this legging with your favorite knit sweater and beloved boots to make it look more chic, you can add a trench coat to make it look like the fashionista you're looking for.
2. Scrunch Butt Leggings
Be interested in knowing how to achieve a sexy ass without doing squats every hour you wake up? Scrunch butt lifting leggings are magical design to define the buttocks and are quick and easy to achieve peach butt. With smooth stitching seams, bi-directional stretch fabric, and scrunch gathering at the center back of the butt! You can match it with gorgeous tops or make it look like a highlight. In any case, the praise is guaranteed!
This scrunch butt lifting pant is very suitable for integration into your daily life, sports and running activities. It meets the following advantages: Perform all types of flexible exercises, enhance support for high waist control and maximize muscle support during exercise time.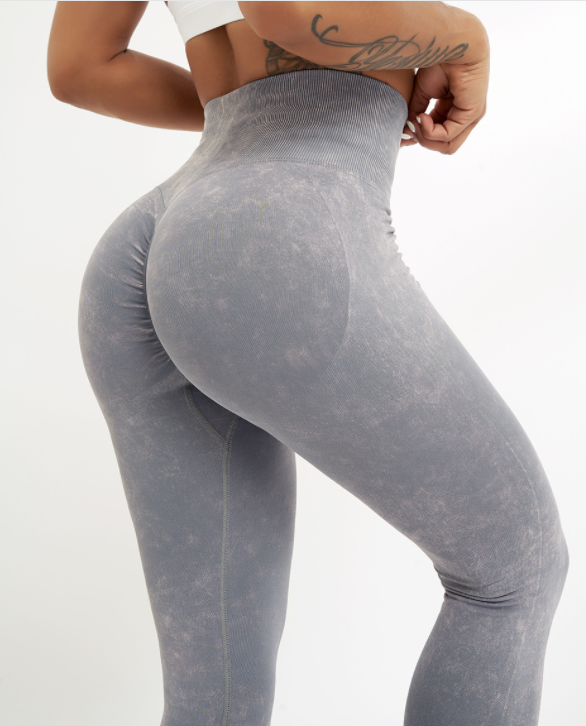 3. High Waist Compression Push Up Leggings
Great for keeping you warm, comfortable and smooth all day long. This high waist compression legging is customer most favorite butt enhancement yoga pants. This pants not only get you in shape quickly, but also take care of your skin and make your rest days as comfortable as possible.
By adjusting and reshaping the areas such as caresses and unsightly bumps, this high waist compression legging works astoundingly on all body shapes. With compressible yet extremely comfortable and soft fabric, it allows this legging to smoothen the waist and legs. Besides, a high waist belt controls the abdomen well. These leggings possess the flexibility and freedom of movement you need to exercise in the gym, but they also own the amazing elements you need to complete a very sexy outfit.
Keep in mind that a pair of leggings is never enough, once you've tried different body-strengthening benefits provided by our butt lifting leggings. You'll never willing to buy regular leggings again. Knitted with high compression fabric, these hip lifting pants are very great to work as exercise leggings that are very suitable for controlling the abdomen.
Put on your favorite leggings and proudly show off your beautiful butt shape. Buy butt lifting leggings from OEMYOGAWEAR.COM for letting your buttock perform it's best.