Sports Yoga Wear is the type of garment for exercise and sports wearing, sportswear provides fitness professionals with functionality and comfort for body builders. Perfect for sports and leisure, active wear has no compromises in functionality and fashion. With the right sportswear, the right sports tops and custom yoga pants, you can take full advantage of your energy when doing activities.
Sports yoga Wear is also known as Active wear, fitwear, or athleisure clothing. Active wear are using for exercise, everyday wear and sports. These sports and leisure clothing are not restricted once you sweat, because sports wear are usually made of fabrics that cool your body.
How sportsb yoga wear became popular
People start wearing sportswear since the early 20th century. But active wear are primarily confined to gymnasiums and PE classes. It gained fame in 1980s when the fitness boom was at the peak. Although the term sportswear hasn't been coined yet at that time, you can tell from the people wearing sportswear tops and sports pants when you go out.
Active wear now regaining its reputation due to its convenience of being worn in the gym and outdoors. Sports and leisure clothing is now considered a way of life. More and more people are starting to wear active wear to create a combination of functionality and stylish.
More and more celebrities are combining shirts with sports and leisure leggings, sports and leisure tops with jeans and sneakers. This also allowed their supporters to imitate the sports and casual clothing styles.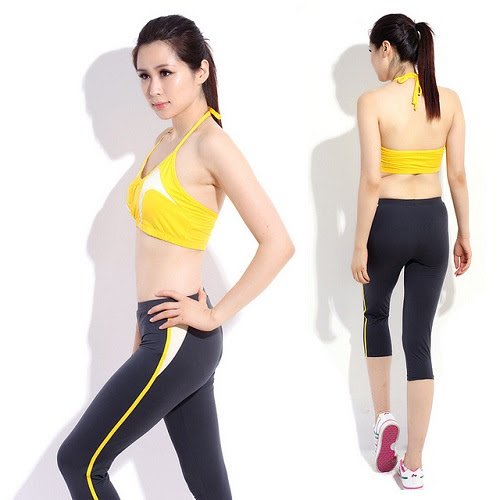 Why you need active wear
Of course, the basic premise is that wearing active wear will help you make a positive plan. Wearing sports casual tops and sports casual pants will help you exercise better. You can do more stretching while staying comfortable, and the right leisure leggings can even help you improve your body shape.
In addition, athleisure clothing also affects your mental state. Wearing sports sets make you feel better, look better and will make you more active. Sports sets looks fresh and stylish even during extreme activities. You can wear sportswear tops and tights for everyday outings and fit your body.
Main trends affecting the current and future sportswear market:
Women's sportswear:
In 2018, the men's segment accounted for the largest share of the global sportswear market. However, between 2019 and 2026, the female segment will have the highest growth rate, with annual growth expected to be close to 6%.
Women's sportswear restricted in the early 1900s as women's sports,  people designed women sportswear to maintain the "femininity" of athletes in accordance with the social norms of the time. Even if the sportswear industry replaced streetwear in the second half of the 20th century, men's fashion  still dominated active wear industry.
Today, women benefit a lot from sports, whether professional, entertainment or cultural. The brand also recognizes its commercial potential. Due to the unexpected impact of the modern health and fitness industry, women's performance equipment, health and fitness clothing and accessories, and popular collaborations with fashion designers are all on sale.
Well-known sports companies are also taking the next step to protect the women's market segment and are becoming financial and ideological supporters of women's sports worldwide.
E-commerce– sports yoga wear
So far, one lesson learned from 2020 is that it's a good idea to bring at least part of the clothing business online. This also applies to sportswear.
Discount stores and e-commerce remain the most important distribution channels in the global sportswear market, but e-commerce expecting to grow the fastest.
So if you want your target customers to choose an online store instead of the nearest sporting goods store, you need to offer more than just a discount.
To do this, we recognize and evaluate how delicate the boundaries between the "digital" and "real" worlds today. Especially for Gen Z and young viewers. Being online means finding a connection with offline and vice versa. You need to create images and tell your brand story in a way that makes sense in both worlds.
Few people train to become a member of the national sport team. Fewer people are famous enough to be recognized on the street. But we all want good health, and in a sense we all want to be like idols.
Sports and fashion are currently two major industries that meet these affordable needs. In the sportswear business, the gap between "sports & leisure", "streetwear" & "fashion" is narrowing.