If you've been looking for a way to dress up the women basic hoodies outfit, this blog post will be the wonderful guide for you! Whether you prefer wearing a hoodie casually, or with part lovely and going-out outfit, this page will show you the different hoodies outfit. The right women hoodies outfits must bring you all the difference style in your day, and when it comes to matching a basic hoodie, there has so many options to dress from.
From crop hoodies with sweatpants to winter coat and boots, or with a leggings with pocket, it's endless for option! So, are you ready for? Because here is how to dress a basic hoodie, and give you the different style with one same hoodies.
Casually but Chic basic Hoodie Look:
You might think that matching a hoodie with basic sweatpants is just too easy for sure, but trust me, it is more than that. It is a perfect styled Outfit that can be wear about any occasion: your office, the supermarket, the gym, or on the travel. All you need to consider, is how to adding the suitable shoes and your matching accessories to create the perfect outfit for the different occasion.
But one thing that you need to know about matching a hoodie with basic sweatpants is that they are both  casual items.In the way, you need to pair them with your most casual items of footwear. Such as, never considering pair the hoodies and sweatpants outfit with your cute high heels.That is strangely when you do that.
The Best and perfect options for this casual hoodie outfit, is sneakers, with it, you will have a more relaxing feel but still look fit matching. Due to sweatpants itself is a casual piece items, recommend you change the footwear into natural trousers or the pencil skirt with a pair of oxfords or loafer, make it a more official look while keep both comfortable and relaxing look.
In addition, make sure that the accessories both match each other the rest of your outfits. Even if you want to be casually comfortable, never exclude a matching beanie or hat, or a simple necklace. Remove out on these additions to the hoodie outfit will make your relaxing look turn into an easy look. In other words, Casually but Chic look is our goal for this hoodies outfit styling, not Out of Bed with Barely Awake!
Wear the basic Hoodies with Different Bottoms
When you want the clothes to make you feel comfortable, without doubt, that is wearing a hoodie.But finally, the basic hoodie and sweatpants outfit become boring and more of something old hoodie paired look.
Skipping out those monotonous feelings, and the skirts, dress, shorts, leggings  are the extra items for your outfit needs! Solid color hoodies work best for this, because it is easier to dress with any style bottoms.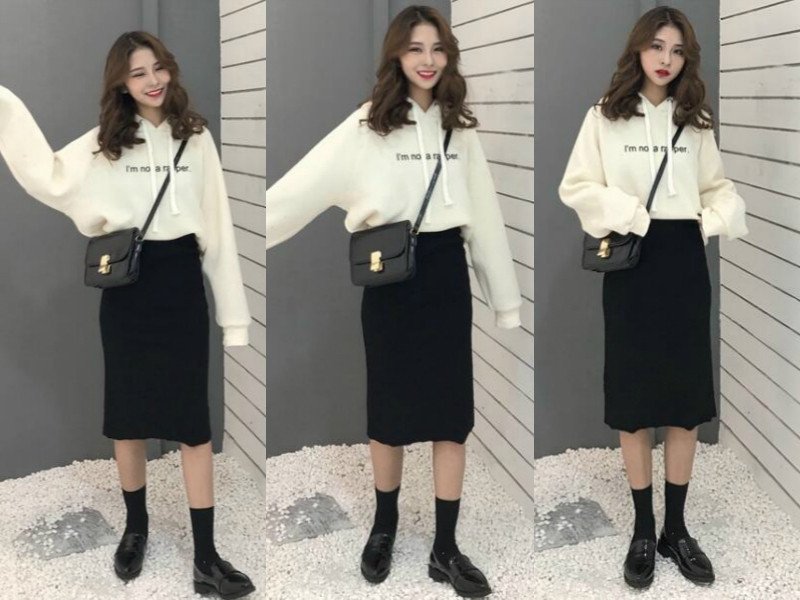 Paired with Skirts, you will crazy find that it comes in so many options, colors and shapes! For the model showed on the photo, she is wearing a mini Skirt with hoodie which makes the outfit much more interesting.You could also wear other bottom like leggings or skinny shorts,if skirts aren't your prefer look with hoodie. And always make sure all your accessories are all matching your hoodie look all time. With matching handbags, earrings etc, will be ever as amazing as a wonderful hoodie outfit.
Hoodie paired with a coat/jacket
Someone might find it odd to matching a dressy coat on top of a hoodie, but it looks fashion. People will always tell you that: it's no about what you dressing, it's how you pair them. As it shown on the photos, a stylish coat, paired with a basic hoodie, that works. Why? Because you aren't pairing the hoodie, you're matching the coat.
Once again, with a couple of accessories and make the coat and hoodie outfit a high point.