Solid color yoga pants are classical design for women, and never runs out of fashion since the day it was born. It's the most popular leggings for gym sports. They are usually made of breathable, lightweight fabric with high stretch level.
Create your own design based on ready solid color yoga pants:
If you are the one who just start running your own yoga wear business, and would like to sold sports wear that reflects your taste and thoughts. Solid color yoga pants will be a good choice for you. As you know, there is always high MOQ for dyeing fabric according to the colors that you would prefer. It's not a problem for big companies since they usually purchase big batch quantity of products in one go. While for start-ups, it's very troublesome to pot dye only a few yards, and costs is quite heavy to burden even the dyeing house willing to help. Further more, there may be color variations for the small pot dye cargos, quite hard to control quality by yourself.
Therefore it's a good idea for the start-ups to choose from ready made solid color yoga pants. With the development of market demand for ready cargos with custom service, more and more factories produce cargos in advance and keep goods their warehouse for shortening delivery time. There are quite a lot choices available, you can select the one you like from available pattern and colors or prints, then check for the quality and fitting directly. That's an easy way for operating your own business at the beginning. You can heat transfer your own brand logo to the ready solid color yoga pants directly. If you are not sure how to work with this way, pls get contact with our team, we will instruct you step by step.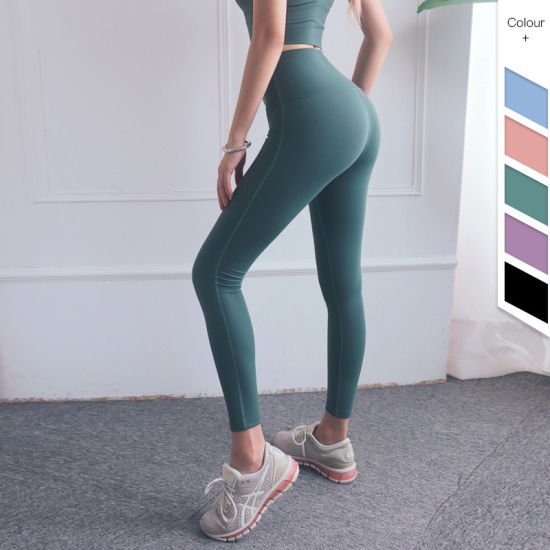 Custom Solid Color Yoga Pants:
For the veterans who with rich experience in sports wear bussiness, usually more preferred with totally custom designed sports wear. These brands select fabric, design artwork by themselves, and ask factory to do sampling for checking and production as well. As a mature supplier in sports wear export field. We, Xiamen Xinyi Apparel highly welcome OEM/ODM orders. Believe we are professional enough to make your ideal samples and bulks.
No matter you'd prefer custom dyed colors, or in stock fabric for shortening production time, both available in our factory. With our professional pattern maker, sewing worker and strict QC team, believe our products will not let you disappointed. The surprising point is, we do not require high MOQ for custom design, so you don't need to worry about too much stock. In this way, you can act back to market trends quickly. That means you can found out which style is the most hot selling one and get contact with supplier for purchasing another new batch of solid color yoga pants for your goods shelf in a speedy time.
Wholesale Yoga Pants:
We, Xiamen Xinyi Apparel is a yoga wear manufacturer in Fujian Province. Our factory supply various sports wear products, range from sports bra, solid color yoga pants, printed yoga wear, hoodie, jacket, and T-shirt.. With more than 8 years experiences in sports wear export business. We offering  professional wholesale customization service and we have the advantages that even you just would like to order one piece, it's available here. If you are interested in branding but don't know how to choose the right wholesale fitness wear, please contact us. Professional gym clothing manufacturer to solve problems for you!