Wholesale Shorts Yoga Set, The weather is getting hotter recently, so the sales of shorts yoga suits are also increasing. This shorts yoga set is also paired with sleeveless yoga underwear. The fabric of this suit is made of nylon and spandex. This fabric is very common in the sportswear market. Because of the mass production of this fabric, our craftsmanship on this fabric is also very skilled.
Short yoga suits are undoubtedly very lucky for some groups who are afraid of heat. This one adopts a four-needle six-thread process, with firm splicing, smooth lines, high elasticity and smoothness, and is not easy to take off the line, which is different from the ordinary car threading process. And this fabric has the effect of absorbing sweat and wicking moisture, which is a very beneficial design for us who do sports outdoors in hot summer.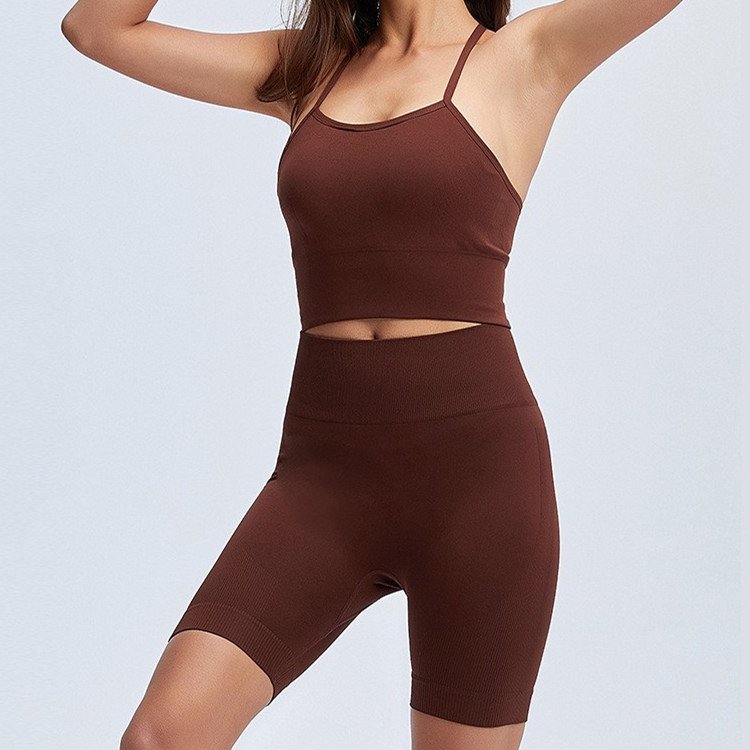 We Offer Exclusive Custom Service for Shorts Yoga Set:
Our team has a very skilled craftsmanship in producing short yoga suits. And provide exclusive customized services for the suits. Customers can give us the products for production with complete peace of mind. We will uphold the customer-first service standard from start to finish.
Our company has rich experience in the production of short yoga suits, and the design of suits is getting better and better. You can carefully discuss with us the services you need, and we will provide you with the best package.