Let's clarify what is plus size legging with cell phone pocket: It's regular leggings with pocket, right? That means you need the same designs and the same color and printing options as any other legging. So why is it so difficult to buy plus size fitness leggings with cell phone pocket?
When it comes to plus size sportswear, the market is clearly not well serviced. However, the situation is changing slowly, partly due to consumer demand. Studies show that two-thirds of American women believe they are a special size, and one-third believe they are a plus size. These women are tired of only wearing unfitted black leggings.
Have you ever wondered what to do with your cell phone while running, exercising in the gym, or in a yoga class? Added a small pocket on the outside of the most popular plus size leggings. These small pockets are perfect for holding your phone while exercising in the gym.
Plus size leggings with cell phone pockets are functional. The built-in compartment is deep enough to store things safely. Jeans don't fit on big screen mobile phones, stuffed toy purses, and thick key chains, but stretchy plus size leggings with pockets are sufficient for safe storage.
Here we have listed the main important features of the best plus size leggings with pockets so you can shop with confidence. Please read below.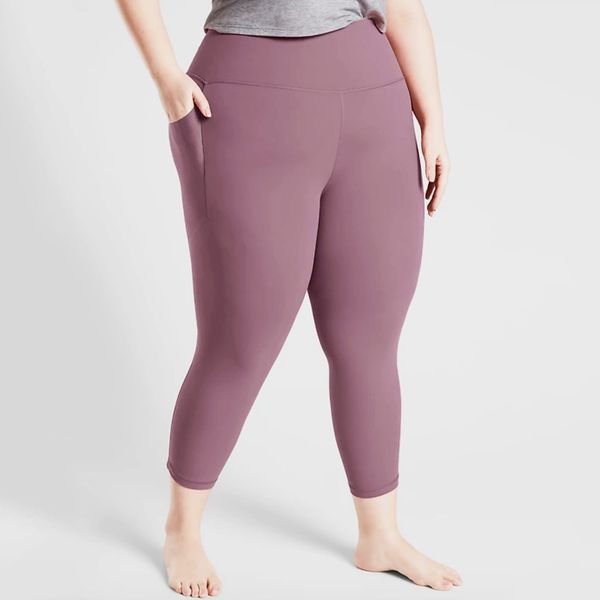 Fabric of Plus Size Leggings
Fabrics vary greatly in feel, comfort and durability. The soft and stretchy leggings are easy to move. It should also be comfortable, as the leggings can be worn not only in the gym, but also when doing errands, dating, or walking around the house.
Whether you're exercising in the gym or sweating during work, there are a few things to consider. The printed plus size fitness leggings are great as they leave no trace of sweat. Sweat-wicking fabrics are always very important for exercising. The best plus size leggings should fit like a second skin, snugly fitted to the waist while leaving enough space at crotch without sagging.
Fit of plus size leggings with cell phone pocket
First of all, the fit must be correct. It doesn't work If the waistband rolls over or the seams are unstable, no matter how great the appearance of the graphic print is. If the legging don't fit, then what's the significance of wear them? When it comes to plus-size sportswear, the key to fit is the details. Look for a wide, soft waistband that is comfortable and not too loose. A pocket big enough to hold a cell phone is always great!
Style of Plus Size Leggings with Pockets
Layering is the key for plus size leggings with cell phone pockets. Consider black plus size leggings with a denim jacket and boots. Add an oversized coat to create the look. Don't underestimate the power of the best plus size workout leggings. Cute and fit leggings with pockets can make you feel good and free your hands. Garments are very magical.
Plus size yoga pants with pockets can be worn anywhere. Leggings not only support us in terms of slimming and wicking, but also able to provide streamlined storage space for practical usage.
Our factory, Xiamen Xinyi Apparel will help you navigate this complex world. Here you can find a variety of plus size leggings with pockets that are suitable for sports activities and daily wear. Ranges from classic black sports leggings to short yoga pants with graphic design. If you keep asking yourself where to buy plus size leggings with pockets, Xiamen Xinyi Apparel is the perfect supplier to shop!