Our special tie-dye hoodie can make you look better. This article will show you what makes our tie-dye hoodie special.Nowadays more and more people like to wear hoodies. Because hoodies are so convenient and versatile, hoodies have become an integral type of people's Daily clothes. Almost everyone owns at least one or two hoodies. You can often see some pop stars wearing hoodies when they perform or go out on the street. So now wearing hoodies has become a trend. However, if you can still have your own personality in the trend, you can become a truly fashionable person. Our special tie-dye hoodie will help you express your unique personality.
What is tye-dye?
Tie-dye is a kind of textile dyeing process, tie-dye uses a variety of dyeing processes, dyeing patterns are diverse, with amazing artistic charm. In modern life, tie-dye, as a high-grade craft form, is widely used by fashion craft. Through the ingenious conception of designers, different colors and patterns are used for clothing creation. which makes people feel stretch, smooth and has unique national characteristics. Because of the special fabric technology, the overall color of the clothing will look brighter and more visually pleasing. The application of tie-dye technology to fashionable hoodies combines tradition with trend, making tie-dye hoodie more and more sought after and favored by consumers and fashion circles.
Fabrics of our special tie-dye hoodie
The first special thing about this hoodie is the material. Our tie-dye hoodie is made of cotton and polyester. As you know, cotton is a very comfortable material for human body. Spandex gives hoodie more stretch, which makes our tie-dye hoodie fit all body types . At the same time, the inside of our special tie-dye hoodie is fluff. In Some high latitude countries. It will be very cold when the winter comes. An appropriate way to wear it is to wear this fleece hoodie underneath, and then wear a coat or a down jacke. When the weather gets warm, you can just wear this special tie-dye hoodie. So it's a very practical piece of clothing.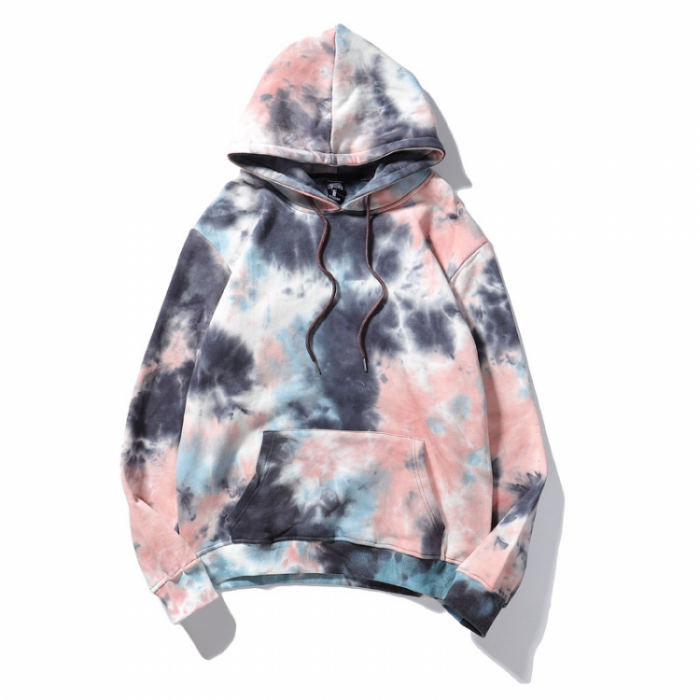 Some special color manipulation
The second difference about this clothes is its color. Some people say that clothes are like a clean palette, and tie-dye elements are its dyes, and you can paint your favorite style and effect on the palette at will. In fact, our tie-dye hoodie is just like this, and the combination of the two elements of tie-dye and hoodie can create different artworks. Usually tie-dye hoodie have a lot of color on them, but they don't look messy. Because every color on the hoodie is in the right proportion . Although our special tie-dye hoodie is very colorful, they are very simple to wear. If you have a tie-dye hoodie, it usually looks great with a simple bottom.
Provide customize service 
The third unique thing about this dress is that we can provide customize logo service. If you want to print your own logo on this tie-dye hoodie, it is very simple. You just need to contact our sales staff and provide them with drawings of your logo. Then tell our salespeople about your customization ideas. Such as where do you want your logo add in the hoodie . Generally speaking, our customers will put the logo in the upper left corner of the clothes. But if you have other ideas about logo printing, we will try our best to meet your requirements. In addition, you can also choose the logo material, logo printing method and so on.
How to get this special tie-dye hoodie?
We now offer this tie-dye hoodie in stock in four sizes and eight colors. In the meantime, if you have any other ideas on the color or size of this hoodie, you can let us know. We will provide customized solutions for you. Our company has been engaged in garment trade for many years, we have a professional team to provide you with good service. Just click the link to enter our website and contact our customer service,then you can get these special tie-dye hoodies. Welcome to contact us.