Custom Seamless Yoga Sets
Seamless Yoga Sets Description:
There are some important things to keep in mind when Custom Seamless Yoga Sets. They include comfort, durability, flexibility, and coverage. Custom Seamless Yoga Sets are your best choice. They allow you to do a variety of exercises without stress. You don't need clothes that require continuous adjustment or skin compression. The best sportswear should not be distracting.
Several benefits to wearing seamless yoga sets in the gym.
1)Abrasion resistance: Seamless garments have no seams, which greatly reduces irritation caused by friction with the seams.
2)Durability: Seamless suits have less heavy stitching and become weaker with repeated washings, reducing wear.
3)Flexibility: Seamless yoga suit garments are great for stretching and give you maximum flexibility.
4)Breathable: A seamless material that allows sweat to escape and air in so you can feel cool and dry.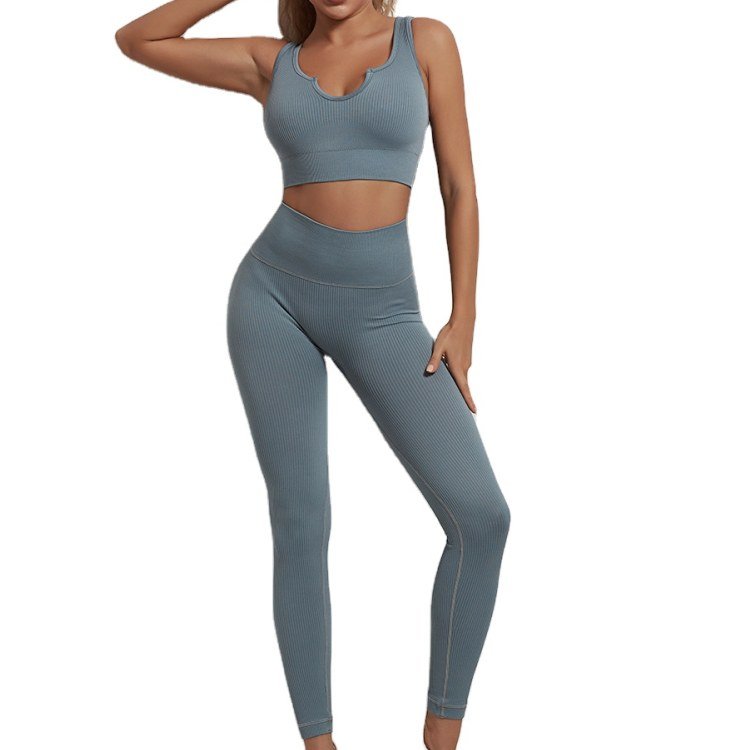 Ways to turn Custom Seamless Yoga Sets into streetwear
The easy way to turn Custom Seamless Yoga Sets into streetwear is to wear solid color hoodies over yoga tops, yoga pants and sneakers. To make you look not so sporty, bring a shopping bag instead of a gym bag or backpack. This simple trick will help you look more casual and street. If your yoga pants aren't dry enough and don't seem fresh after training, switch to a natural texture then this is not a problem.
Some simple rules to follow when buying the perfect yoga outfit:
Breathable flexible Custom Seamless Yoga Sets.
Fitted tops that won't hang on your head when standing upside down
For women, sports bras or bras with built-in shelves are sufficient to support the type of yoga you practice.
Comfortable and warm top layer, is ideal yoga wear after relaxation
Tips on custom seamless yoga sets material:
When looking for the best Custom Seamless Yoga Sets for your daily activities, you need to find materials that are comfortable for you and what you want them to do. If you need yoga pants for sweating exercises, you should also look for wicking materials that are easy to breathe. This material absorbs sweat from the skin and helps keep the body dry and cool.
On the other hand, some materials absorb sweat easily, so if you wear it for exercise, you may feel uncomfortable or sweat. The next time you look for Custom Seamless Yoga Sets, consider the following resources:
1)Synthetic blend
In general, synthetic materials dry faster and breathe more smoothly than natural materials such as cotton, making them the best material for sweating exercises. A common synthetic material for Custom Seamless Yoga Sets is a mixture of stretchy fibers (spandex). It is a very popular material for sportswear because it stretches and moves easily.
What are one of the biggest drawbacks of synthetic materials? They tend to retain more odors! In other words, you can buy a special cleaner to get rid of the odor more easily. Many sportswear brands also produce blends with special attention to odor removal.
2)Cotton Blend
Pure cotton is natural and comfortable to wear, so if you plan to use Custom Seamless Yoga Sets as casual wear instead of yoga, it's a good material. However, high-performance clothing can retain moisture and may not be the best choice for hot yoga or sweating.
If you are doing yoga mildly, cotton blend is suitable. They are soft and do not limit you to maintain your posture for a long time. Alternatively, choose a blend of cotton and elastic fibers.
3)Bamboo
Many brands now manufacture bamboo yoga pants as well. This material is very popular because it is softer, more comfortable and easier to breathe than cotton blends. It is also believed to be easier to remove odors than cotton or synthetic brands.
Seamless Yoga Sets wholesale:
-Pattern Design: Custom Seamless Yoga Sets own design, or make some changes on our designs
-Fabric Custom: Can be custom the fabric as you requested
-Color Options: You can choose from our instock color swatches, and can be custom as the pantone number you provide
-Size: will under your own size chart, if not, we have the standard US size chart for confirm
Print Logo Service:Heat Transfer print, Screen Print, Silicon print, Embroidery available.
Custom Hang Tags: you can design your own hang tags, and our team will provide you the various options.
Brand Custom Packing Bag: polybag can print your brand name as requested, and custom carton boxes are also welcome.
UPC Barcode Sticker: Send us your detail information for the sticker, we can custom it on the packing bags for you.
The custom service we can offer:

How to wash Seamless Yoga Sets wholesale:
Machine Washing Fitness Sports Bra and Yoga Sets
a. Pre-soaking the yoga sets in cold water, especially the pants with stains.
b. Separate the white yoga leggings and the colored one.
c. Flip the Custom Seamless Yoga Sets inside out, to prevent the apparel from fading or tearing
– Better placing inside of a mesh laundry bag, to prolong the yoga leggings' lifespan.
-Hanging and let the yoga pants dry, to prevents= the fabric from losing its softness and prevent it from getting damaged.
Pro-tip:
1. Don't use any fabric softener and bleach, to prevent the damages of your Custom Seamless Yoga Sets feature.
2. Don't wash your Custom Seamless Yoga Sets with other apparel that with zippers or Velcro, or other rough fabric, avoid any chance that will scratch or rub against the yoga pants.
Hand Washing the Athletic Custom Yoga Sets:
Washing your Custom Seamless Yoga Sets by hand, would be the most safe way to ensure the fabric will prolong its lifespan. Even though after undergo the extreme or harsh movements and yoga practice.
And if possible, we do recommend you washing your stretch yoga pants with the hands.
a. Separate the light colored Custom Seamless Yoga Sets from the dark colored one
b. Using cold water instead, and pre-soaking at least 15 minutes.
c. Washing individually by holding the yoga pants with both hands and moving it forth and back repeatedly.
d. Remove the extra water by laying it against the towel and hang to dry, or pressing the yoga wear gently.
Noted: You can washing by the same way of the joggers, tank top, t-shirt, hoodies or sports bra etc, especially the Custom Seamless Yoga Sets.